0
  

Thursday in the afternoon.
Thursday's might be my lucky day. I always used to think it was Tuesdays.
As you can see by the pictogram, I was out riding bikes going to cool places, hangin' out with some cats doin' stuff. We were actually doing something constructive and not (just) loafing off work.
I was out with a pair that could start a band called the Enablers, Angry and Blakey, doing recon for the upcoming Gravel Grinders. The ride started out at Belgrave station, and with my new found enthusiasm for being a big k rider, I rode out from home, with the intent of riding back home post recon.
As it turns out, the return leg didn't quite happen. I ended up with a late client booking that I had to get back into town for. Between work and the motto of just easing back into the big rides, I was on the train home. This itself caused all sorts of problems for me too. Couldn't find where to put my money in the machine, turns out it was a MYKI one and not a normal one, the ticket lady's machine was in the process of getting fixed, the train looked ready to leave, couldn't see which part of the train the guys had got on, did I even have the right platform… AAAGH, deep breath. Yeah, so me and public transport don't always get along.
The ride itself was great. Out past Cardinia reservoir, over somewhere else, up some hills, down some hills, back onto some blacktop for a bit, back onto gravel, couple of little pinches, back through somewhere else and into Trailmix at Lysterfield Park for a brew and a sit down. Top day out on the bike.
Race day. The Duael.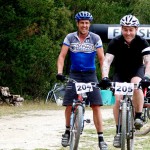 The pairs enduro has to be the hardest format in mountain bike racing. It is also the category that I find most fun. It also helps that I have some glorious tales to tell of near victory. BITD, riding single speeds, wearing hawaiian shirts, leading for 15 hours only to be pipped by 10 minutes at the MONT, winning derailleurs and 9.0 gripshift…
Sorry for that stroll down amnesia lane, where was I? Ah yes, the duael. Tough race, but so much fun. I was fortunate enough to be paired up with one of the most skillful riders I know, Dan Hale. The man knows hoe to ride a bike, that's for sure. I respect him so much, that when he turned up late, like after the race had started late, I did the first lap. And I have never before, in my life started a pairs enduro, my elbows are too skinny and the traffic gets me cranky.
Anyway, even with a lack of bike time and riding his beloved monster cross SSCX, Dano was still getting around alright. Tough course to be making a comeback on an SSCX though. Some new trail and plenty of twisty singletrack through pines that was a bit chopped up makes for a hard day out. But we were there for fun and fun we had. I think we were probably slowest through transition than any other team, we could have almost had a cup of tea, probably would have if we had any civilisation in us instead of being a pair of grumpy old has beens. Apparently DC has a photo of both Dan and I in it, and we are both smiling. I figure it must be some photoshop chop job. That's what I will claim if it ever gets tendered in a court of law anyway.
The highlight for me is an easy pick. Time was winding down and it was touch and go whether I would be fast enough on my last lap to beat the clock and make Dano head out for another. Gave it everything I had and scraped in by a couple of minutes. Sweet. I think the response I got for doing the right thing by the team was "you prick". Haha, awesome. But don't doubt it, it was meant as a compliment.
So, if you like some hard and fast racing with an awesome level of crowd participation, get along to the Duael next year. It really is a cool event, and there aren't many I haven't raced.